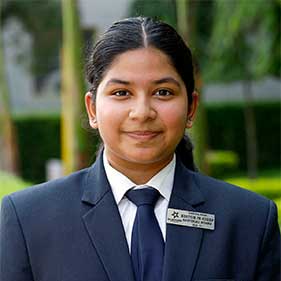 Like dry auburn leaves swindle down in the fall to give rise to a hopeful, blossoming spring, like the sun sets in the west to unveil a luminescent moon and like the snow melts and glistens after at the stark end of winter to add to the vast oceans and seas that breathe life into our planet, every end propels a happier beginning - such has been my journey as Editor In Chief.
As I write this final message, there coexists between melancholy and joy, an intense feeling of pure and sincere gratitude for the incredible tasks assigned to me and the countless opportunities strewn along my path that I could have received by no other means. I will forever remember the day I was adorned with this title and, along with it, a sense of responsibility, unspoken yet heard distinctly from that day on. I had readers to impress, people to interact and learn from, ideas to come up with on the shortest of notice, most of all, I wanted to work so hard that the decision to elect me in this position would never have to come under question but, even with those thoughts I only felt honour and belonging in the Editorial Board, after all, I had the most supportive and collaborative loving team members backing me up. It was a combined effort and synchronisation like no other, be it hosting the Annual Sports Day, three of them at that, compiling and getting issues of the newspaper ready or working at full creative capacity to find themes for events and new editions. It was comforting to be able to turn to my friends, be it for reassurance or to vent, to seek opinions or to demand suggestions, no matter the circumstance, they only met my apprehensions with kindness and unconditional love and gave me the positive shove I needed to drive something to success. I thank Ms. Megha Bhat with all my heart for always having our back and defending us relentlessly even if we were at times wrong. It was under your haven we could flourish as great writers, speakers and orators.
It would be cliche to say I have learnt the most through this experience but I cannot find it in me to deny the truth. I shared words with personalities around the globe, people I could only dream of speaking to someday, who have preached to me, at times through a computer screen, lessons I will bundle up near my heart and carry with me. The Editorial board has taught me the true meaning of functioning like "clockwork" and I have unlocked skills even my conscience had concealed from me.
All that I will say is that being in the EB conditions you to be more observant and fills you with positivity while you see the beauty embedded in the little things in life. For me, it has been the advent of a journey of self-discovery and growth by showing me my strengths physically in front of me in the form of The Billabong Bulletin, my achievements, and my members with whom I form a pact that will withstand the test of time. Like I said in the beginning, even though we may shed a tear now, at the ending, what awaits afterwards will only be more enthralling and delightful. I leave it to the new EB to bring my words to existence, I wish you all the very best!
Sanjna Nair
Editor-in-Chief (2022-23)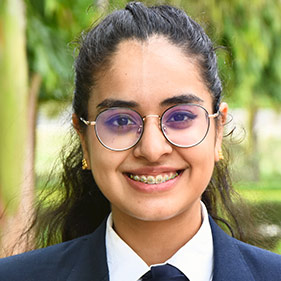 As I opened my wardrobe today, the glance at the elegant Student Council uniform soon turned to a stare at it for quite some time. I discovered that I had never imagined that the glistening badge that read "Editor-in-chief" adorned the piece of clothing and never failed to command awe! What enlightenment!
It seemed a distant reality, perhaps an occurrence, if I may say so, I hadn't even thought about. Nevertheless, it ended up handing to me a sturdy basket of memories - one that the Editorial Board members and I intricately weaved through an unending series of sleepless nights, ecstatic launch days, unproductive meetings, genius ideas, deviant conversations, and focused work.
While I was totally caught off-guard by the position that had been bestowed upon me, I was incredibly fortunate to have the mentorship of Ms. Noor Qureshi initially and later the dedicated guidance of Mrs. Megha Bhat. Most importantly, by my side were four spectacular writers, orators, and thinkers, and by the end of the year, four sisters as well!
Being the Editor - in - chief not only gave me the opportunity to curate the Billabong Bulletin but also immersed me in a multitude of experiences that I could not be more grateful for. I was pushed beyond my comfort zone on multiple occasions and compelled to rake the creative cerebral embers throughout the year. I can never get over the thrill of admiring the smiling "Me" on the front page of TBB. Getting my name imprinted forever in ink, in a small part of Billabong's illustrious history, is a satiating reward!
To be included in the illustrious list of Editors - in - chief the school takes pride in is an absolute honour for me. As my journey with the Editorial Board ceases, I feel glad to pass on the baton to another bright, fresh-faced EB, ready to take the legacy forward. Here's to the TBB, and the erudite members who would become a part of the Editorial Board, bearing its ensign and the appended responsibilities on their competent shoulders.
Mannat Kaur Kandal
Editor-in-Chief (2021-22)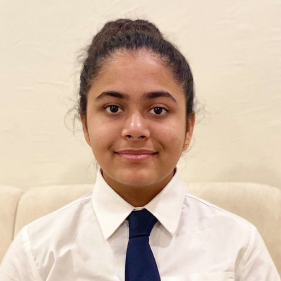 You are 8 years old, running down the corridor, clutching a newfound treasure - a magazine you have been awaiting, for the better part of a decade. Truthfully, it was more along the lines of 6 months, but composure is insufferable when you are 8 years old and have the attention span of a 2-year-old. You eagerly flip through it, the glossy pages slipping through your hands like butter on a hot pan, and you scan the pages until you find your poem, proudly proclaiming your name. Granted, in a few years you'll find it childish and embarrassing, but as of now, you might as well have won a Pulitzer.
You are 16 years old and your fingers are flying on your keyboard as you tiredly compile the reviews section of your newsletter. What stares back appears to be a haphazard clutter of files and images and you resignedly hit 'transfer folder'. You sigh and open a word document, a blank page and the world is as simple as when you were 8. You have mixed and folded and kneaded and shaped the newsletter as if it were a ball of dough, and now you must sit by the oven door and watch it rise: you never learned patience after all. As you wait with bated breath, you think of everyone else, especially your team, who have put in as much love and labour into their work as you have. And you learn two things:
Your work is not yours alone; it is a rich tapestry woven out of toils of many more, flowing like fine embroidery on a shared fabric. Second, the courage it takes to share something that you have created, weaving through insecurity and doubt, is worth the thrill of knowing that it is out there in the world, reaching and touching people you do not know. The newsletter will come out as it does, it will be received as it shall, but it will be loved and cherished just as much as you, to those it belongs to.
Hia Sadho
Editor-in-Chief (2020-21)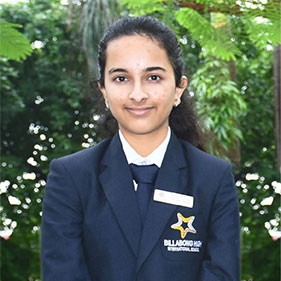 Being a part of the Editorial Board was surreal. When my name was called out for the post of Editor-in-chief, I could not believe it! I asked my friends - did they hear it too, was I being called on stage, if my name was even Ira! It is one of the greatest things to have ever happened to me.
Being the Editor-in-chief in itself was an immersive experience which offered me and my fellow members a lot of learning opportunities helping us gain the confidence to ideate, plan, delegate, execute and to meet and interview celebrities! What a memorable day it was to interact with Mr. Vinay Pathak and Ms. Megha Singh Parmar!
The newsletters have been an embodiment of our school's spirit, the curation of which could never have been possible without Ms. Noor (our Literary in-charge and mentor) and the rest of the team who guided and motivated us to deliver our best.
Due to the COVID-19 outbreak, our valedictory newsletter (April issue) could not be published but I am impressed with the way the new Editorial Board is collaborating and putting the newsletter together for us during these unprecedented times. I wish them good luck for the coming issues!
Ira Fatma Khan
Editor-in-chief (2019-20)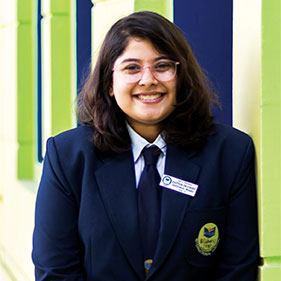 If an abstract noun existed that meant both a feeling of insurmountable awe and abundant affection, I would use it to describe how I felt about words. I save them all: little scraps of notes that friends passed on to me in class, doodles drawn on the torn corner of my Math textbook. In my penultimate year of senior secondary schooling, I had the honour of adding to my collection, my own edition of the BANG.
The Billabong Achievers News Gallery has always been a part of my memory, beginning as a thin pamphlet filled with short stories and poems from senior students. It expanded into this plethoric entity, encompassing art pieces, non-fiction articles, short stories, poems and as the name suggests - a bevy of achievers that made the Billabong name proud.
As the Editor-in-chief of the Editorial Board for the year 2018-19, I felt severe growing pains. I conscientiously believe that I learnt far more than I could have imparted in any way. I understood the importance of delegation, of owning up to my mistakes and realized that as the person in charge, the buck stopped with me. I have emerged from the experience a better editor, a more perceptive writer, a confident public speaker and a leader; knowing that the ultimate leadership quality is having faith in your team!
Arya Shukla
Editor-in-chief (2018-19)